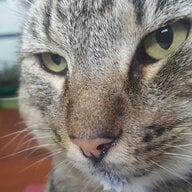 Joined

Apr 30, 2019
Messages

19,932
Hello
@Lisa Loves Shiny
Long rambly post alert because i have all this extra time with no Tibby
When my mum went into care my sister packed up the house.
We did go down and worked on the garden to get her house ready for sale but i couldn't afford much time off work and my sister and mum lived in the same city while i lived in the North island
It was a horrible time, i was bearly speaking to my sister who had alteady started emptying the house ...there was no cutlery in the house, how were we going to eat breakfast ????

anyway anyway we took some boxes home of stuff my sister had allocated to me but due to having a tiny flat the boxes went straight into the garage and stayed there till we moved (i actually saw another cartoon in the stack of moving boxes unopened on the back wall of the lounge today so maybe more tresure to come !! (stuff my sister didn't want to come)
Anyway in one of the boxes was the old jewlery box i had made mum in woodwork when i was 12
Mums keep stuff like that ...actually i might have a false memory - my sister might have given it to me after mum died when i went back down to see Bruce Springsteen a week after her funeral
Anyway what ever
Im just mumbling away
so there was odd little bits and pieces in there, a silver brooch with real pearls i thought was just random shinny metal faux untill today
Along with some broken beads, some odd screw back earings - stuff that was never worn that i don't even recognise
There was this pink glass ring .... everyone can relax

No one needs to burst my bubble because i think its a huge pink diamond or what ever

Its glass

And it was grubby
i wonder if mum found it or something, its too big for her or grandma and my mum only had 18 carrot rings
Anyway while i had my loup out looking at the pearl brooch i had a look inside in the ring and its 9 carrot
I've cleaned it up
it has zero wear marks and even the glass is unscratched

For some odd reason i have dishwashing liquid with the moisturiser in right now - it must have been on special - so i soaked it in white viniger and warm water
then i couldn't find the old toothbrush ...i think Gary must have cleaned the bath with it (shouldnt complain if he was cleaning)
Anyway it came out really clean !! I then just used a silver cloth
the photos don't pick up the rose gold, but its an agreeable shade to my eye
im thinking of using it to 'test out' the local jewler in town before i engage on any 'real' projects
I've desided I'd like to put a smoky quartz in it to match a pendant i have
I wish the ring was east west for better finger coverage
but hay its a bonus !

And its going to be fun and also be for practice buying a loose gemstone to fit
yes yes another project to my list

Because i can't do anything till im working again
But planning for my projects gives my mind a rest from my worries
i already have a plan in my head for a Tibby remembrance ring the practice will be good