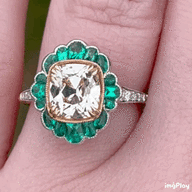 Joined

Jan 29, 2012
Messages

4,057
I always giggle when I read your posts

No I'm not buying this one. I just threw it out there hoping someone else would buy it and post pictures.

I have a little sleepy pink sapphire I don't know what to do with. I don't even know what color to call it.

I'm thinking a recut would bring out some sparkle?
What a pretty color. How did I not know about this? Are you keeping things from me Suzanne?

I'd love to see some more pics of that guy. What size is it btw?