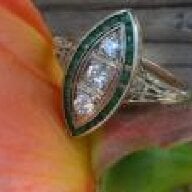 Joined

Aug 5, 2010
Messages

12,691
Okay, so we talked about it and here it is!
This thread is devoted to not just any old pretty stones, but stones we've seen that represent some minimum combination of representative and sought after: color; size, excellent price point, quality cutting and rarity. In essence, a stone that doesn't come around very often, that for whatever reason, you yourself are not interested in purchasing, but wanted to share with the PS/CS family in case somebody here would want to jump on it. There may be other qualities/criterion that folks want to add to the list - by all means, go for it!
So that this thread can be perpetuated, we ask that if possible, you upload images of the stone rather than links which expire. It would also be helpful to include the specs and asking price, if you remember
As promised, the first stone is from Michael Litnon a huge 11.43 carat, pure orange (doesn't have any discernible red), Namibian Spessartite, available for $1,140. Dimensions are 14.8 x 10.9 x 8.8 mm, so some reshaping work could be done to make pavilion facets even more lively if needed.