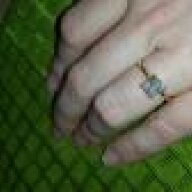 Joined

Dec 19, 2015
Messages

35
Hello Everyone,
I am fairly new to price scope and I am learning a lot as I go. I am interested in upgrading my ring and want to go back to my local jewelers. They offer this diamond buy back for the full price if I agree to spend at least what was spent the first time.
But I would like someone one with experience to look over my diamond info and give me some insight if the price is fair or if it is too much for such a diamond. It was an interesting insurance replacement ring as I lost the original when I was pregnant. But the price of the diamond for the insurance coverage was $5,735.00.
I have always been weary of high end jewelry stores but like I said this was an insurance thing and this is where our options landed us.
Please let me know how we did. Disect the detail. Also advice for moving forward would also be greatly appreciated.
Thanks!