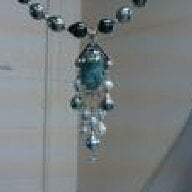 Joined

Mar 25, 2009
Messages

650
After all that work with the emerald and the microscope, I decided to play around with my gems. Here are a couple of pictures I took messing around.
1st picture: L to R: unheated green sapphire (2.5 carat or so), spessartite (1 carat? not sure), unheated padparadscha sapphire (2.5+ have to check the cert), unheated ruby (2 carats), emerald cut sapphire (1.10 carats), zambian emerald (1.5 carats or so, notice the chip I put in it
), unheated blue sapphire (2.07 carats, this is an awesome stone for seeing untouched rutile silk), tsavorite (1 carat or so), blue spinel (2.5 + carat round), alexandrite (1.2? carat have to check cert), tiny paraiba tourmaline, unheated sapphire (2.5 or so pear shape), golden beryl (2.5 carat), unheated pink sapphire (2.5 + -), small blue oval sapphire (1.25 carat), larger oval blue sapphire (2 carat + -).
Some opals of various kinds, all solid, all from Australia. Largest is 18 x 11'sh.