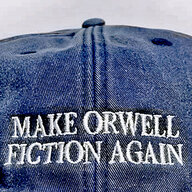 Joined

Apr 30, 2005
Messages

32,192
Source: Leibish & Co. newsletter

A century ago, the major players in the diamond trade were Jews.
As a result, many of today's expressions specific to the diamond business are borrowed from the Yiddish.
Here are a few important trade expressions to get you started:

Mazal und Bracha Translated this means, 'good luck and blessing.'
Diamond sales are concluded with the statement, 'Mazal und Bracha,' said together with a hand shake.
No contract has been signed, and no payment has been made, but once the word 'Mazal' is said, the deal is concluded and the two parties are obligated.

Meziah A 'meziah' is a great bargain a diamond which you get at a price substantially less than its real value.

Stropp A 'stropp' is the opposite of a bargain.
It is a diamond not worth the money you paid, and which can't even be sold at this low price.

Broch Even worse than a 'stropp,' a 'broch' is an extremely bad deal.

Al hacol This expression actually originates in the Hebrew.
I first heard it not in Israel, but in India, said by Indian dealers.
It is said when making an offer on a complete parcel, containing many different stones without the rejection of any stone from the parcel.

Zicht When a stone is reserved for a specific person, it is closed in an envelope, with the word 'zicht' written on it.
In such a situation, the owner of the stone can't offer it to anyone else.
It is reserved for the person who entered it to the 'zicht,' until he opens the envelope and releases the stone.

Cashett This is a binding offer made when a stone and/or a parcel is closed within an envelope, with the price and payment terms written on it.
When the seller accepts the cashett, he says, 'Mazal Und Bracha,' making the sale official.
Now the stone belongs to the party who offered the cashett.

Brenn A special expression used (as are many of the Yiddish-originating terms in the business) exclusively in the diamond trade.
A 'Brenn' refers to extremely hot markets when prices go up to the point of nearly losing control.
There is no real economic explanation for a 'brenn' it is like a bush fire feeding on itself.