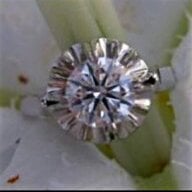 Joined

Nov 17, 2009
Messages

2,738
I just can't describe how happy and excited i am right now!
For quite some time, i had been contemplating a reset for my solitaire ER but for sentimental reasons i was hesitating. Two months ago though, DH did something that i never expected! He got himself a new wedding band, which is much bigger and more modern than his original wedding ring! It was a very pleasant surprise for me, because it was the first time that i saw DH really being interested in jewelry and buying something for himself. He feels extremely excited with his new ring and he was relieved to see that i had no problem whatsoever with him not wearing his original ring!
After that, i took the big decision to have a reset of my entire wedding set! Initially, i was happy with those rings and their diamonds were of excellent quality and very sparkly but lately i had started feeling tired and bored of them!
So i contacted my jeweler and discussed the issue thoroughly with him. I sent him inspiration pictures that i found on PS and on other websites and heard what his thoughts were. After long conversations and a constant exchange of a...million e-mails, we agreed on the specifications of the new settings! I always loved three-stone rings and i took the decision to go for it. I also decided to have a thin halo around the ring's center stone, which accentuated its size. The halo, in combination with the side stones, gave me a great finger coverage!!!
The stats of the ER are as follows: Center stone is my old .90ct, E, VVS2, Triple excellent cut, hearts and arrows diamond, which is GIA certified. The side stones are .35ct each, G, SI1, excellent cut diamonds, which are totally eye clean and look perfect next to my E main stone. I can't notice any difference in color, no matter how hard i try! The stones of the halo are F color, VS clarity and excellent cut and their total weight is .32ct. The setting is made in 18kt white gold.
I also had my half eternity wedding band reset in a new 18kt white gold setting, which - in my opinion - flatters the stones and makes them look sparklier and bigger than before. The ring also looks way better and more substantial on my hand, even when i wear it alone. The most amazing thing is the fact that the two rings sit flush next to each other now! Yay! I was always bothered by the gap between my previous rings!
I admit that i am ecstatic. I'm over the moon! I feel as if i went shopping and bought two brand new rings. There is nothing that i don't like or that i would have done differently with the new set!
I will post many pictures but as many friends here already know, i'm not a skilled photographer and my phone camera is not helping either!