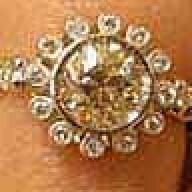 Joined

Feb 9, 2003
Messages

95
As I could not fall in love with the round brilliants, but love their fire and sparkle, I have been searching for several months for an alternative stone. On a rather limited budget.
Over time, I realized that cut quality and size (and I mean dimensions of the stone, not really the carat weight) were more important to me than color and clarity. I know that puts me in the minority here but size is as important to me as cut.
I love the asschers but their depth makes their visual dimensions smaller and so I could not afford to get a big enough one for me.
I love the flanders but they are too pricey.
Eventually I found a regent on
GOG
that was a .77 carat, G, I1 that had very nice size - it was actually bigger than the .90 carat also listed! I liked the "specs" on the
GOG
site and inquired about it. (It is still up there if anyone wants to look.) Jonathan had sent it back to the source for inventory and they had taken it to the Florida gem show and sold it. I was pretty crestfallen as it was $2000 - what a lovely price!
Jonathan started searching for me, knowing what I wanted, and came up with a 1.15 carat, I, I1, regent for $3487 and I decided to get it and take a look.
As to the I1, it has a GIA report that shows loads of different "stuff" in the table. What I see with my naked eye, in certain lights, is a "white feather or cloud" - I don''t know which, in the table. It is the most visible in daylight but I must say I don''t think it is really much of anything. Obviously I can live with stuff I can''t see much more easily than the majority of posters here :~)
The stone has tremendous sparkle and scintillation. Of course it varies in different lighting conditions but is lovely in the majority of lights. I primarily see color in "low light" conditions and the color comes off of the facets above the girdle. But in many lights, the whole ring just sizzles, sparkles, glistens and is very "exciting."
As to color, it is not at all warm. I would also say it is not tremendously "white." If D is white and F or G is platinum, this I is sterling silver, if that type of analogy makes sense.
The regent cut? It is really just gorgeous. Almost a square, very much like a round - a fascinating blend of the two.
The stats:
carat: 1.150
6.17 x 6.17 x 4.0 mm
crown angle: 38.3
crown height: 9.5
pavillion angle: 40.9
pavillion depth: 43
table size: 73.5
symmetry: vg
polish: vg
clarity: I1
color: I
total depth: 64.9
fluoresence: faint
Jonathan posted the b''scope of it in another thread here today called "square vs modified square" and you can see it there - it is: White Light - VH 2 1/2, Colored Light - VH 2, Scintillation - H 1.
I would like to know what the "group" thinks? I will post a series of photos I have taken (I see I needed to do this prior to composition so they will just come after). I know the stone is very lovely. I would like to know if this seems like a good price? And I realize that will be quite hard as no one but Jonathan seems to carry regents. But I will appreciate any and all input.
Thanks!