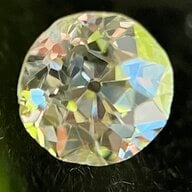 Joined

Dec 16, 2007
Messages

24,476
Izzy though you may not believe it, I am also a work it out theorist when it comes to marriage
But for my that applies after many years of successful marriage and history and a patch of bad. It does not apply in situations where people probably should not have married in the first place. If you have serious issues prior to marriage or within the first 2-3 years, I think it is more a signal to call it a day and not a signal to "work out" what likely represents fundamental incompatibility.
I second MoZo's advice about the conversations with mom.
I would also like you to think hard about what being "in love" might mean to you. To say you are in love with a man who treated you the way he has, and with a man who was not good for you for so many years suggests that love might not be defined in the most healthful way for you. I know a lot of women who equate the anxiety and uncertainy and excitement that accompanies a dramatic relationship with love. Additionally, missing the good times and mourning the loss of what you hoped would be in your marriage is not actually heartbreak or lost love for *this man*. The fantasy future you two talked about likely would never have been. So mourn the loss of that dream, but don't let that yearning spill over into your feelings for this man. You can have that dream with another man, and have love without the drama, if you do the personal work required to recognize a good match when you find it.