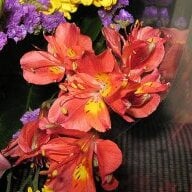 Joined

Jan 14, 2009
Messages

142
For Valentine's Day this year, I decided that my gift to boyfriend of almost 2 years was going to be a home-made dinner.
So, I made Engagement Chicken, following Glamour's recipe to a T, although the roasting time was closer to 2 hours than 45 minutes, just a warning!

Anyhow, the minute our dinner was over, the boyfriend enthusiastically declared, "Wow, my girlfriend's such a good cook! I have to tie this one down so only I could get to enjoy your cooking. I don't want any other guy to eat your food!"
So I responded, "Oh?"
And he said, "Yeah, and I've been thinking; we get along with each other so well. We've been together for almost 2 years and we've never had any argument or weird fights or anything."
I was like, "When did you start thinking about that?"
He said, "Oh, you know, just now over dinner."
Needless to say, I was shocked. I mean, this was coming from a guy whose hands would clamp up whenever I mention the following words: "Engagement"; "marriage"; "ring," in any order.
For the rest of the night he kept on harping on and on about the chicken and, "I want to be with you forever. I can't wait to spend the rest of my life with you."
I was pleasantly surprised, considering that I've made him sooo many other extremely complicated and fancy meals in the past, but apparently, this super easy dish made him think of the future.
I don't even need to get engaged within the next few months or anything, but I can't believe that this chicken dish made him think and say all these things in under an hour.