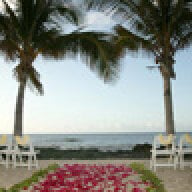 Joined

Nov 30, 2005
Messages

2,216
So with my wedding fast approaching I''m starting to think about my wedding makeup which I''ll do myself. The problem is that I don''t wear much normally and have never found a concealer or base I really like. My skin just doesn''t agree with makeup. All the undereye concealers I''ve tried rapidly settle into the fine lines under my eyes and accentuate them. Which is seriously annoying as I don''t really have many fine lines.
I''m also planning on using a concealer on the little patches of psoriasis I get at my hairline when I''m stressed. (I have a feeling I''ll be stressed!) Again I have trouble finding something that goes on smoothly it sort of... cakes or something making it look obvious. I''m not sure how to describe it.
Base tends to either not go on smoothly or to not stay smooth. I get this weird texture that just screams makeup. (or it does nothing at all). I usually just use a bit of powder to even out my complexion for special occasions but I don''t think that will cut it for the wedding photos.
Shine will also be a big problem since I live in a very dry climate but will be married on a humid beach.

Eye makeup suggestions are also needed. I don''t know why but most eye-makeup just slides off of me! Even smudge-proof stuff and some water-proof mascara! It''s very annoying. Within 1/2 an hour I look like I''ve been punched.
I especially need eyeliner as I don''t have enough lashes on the bottom lid to put mascara on. *sigh*
The only good news is that I can apply makeup fairly well and can make myself look pretty.

I''ll be going for the enhanced natural look as my fi doesn''t like makeup.

So can you guys recommend products? Pretty Please?