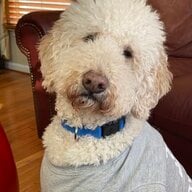 Joined

Dec 8, 2019
Messages

958
Hi Everyone!
Happy Friday!
You have all been super wonderful to me in the past year + that I've been part of the PS family. You helped me with my current ER and even tho it's not ideal and purchased from a brick and mortar store you put me at ease. I could have done better with a preferred vendor but I decided to keep my ring.
Also, with your help and expertise I purchased my
ACA
studs that I adore!!
Now, back to my original situation... I want a bigger stone and I know it makes perfect sense to wait and save enough funds since I will have to start from scratch for me to do so. As some of you may know, I don't want to upgrade with my previous ER jeweler. I want to work with a preferred PS vendor.
With ALL that being said, I am back to wanting a 3 stone ring with my current stone. I know I should wait but we have some home improvement projects coming up that are costly and we don't like to borrow for that. We prefer to use our savings. So with that, I could get a 3 stone ring that could satisfy me for some time...I hope. We are excited about the home projects and that takes precedence. BUT I can still purchase small side stones and have David Klass do a 3 stone ring for me. I am so excited to work with him! So far he seems really great.
These are the stones he sent. Can I do better? No certs? One does have EGL.
They are Ks like my ER but my ER does have strong blue fluorescence.
"They weight 0.95ct together. They are K color VS2 clarity. One of them has an EGL cert. The spread is 4.92mm for one and 4.98 for the other. They cost $1250."
I will share a video too. Should I get them or look for my own pair with your help?
Thank you for your assistance as always!
Last edited: