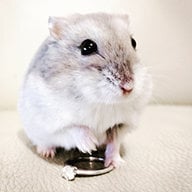 Joined

Oct 22, 2011
Messages

219
hello PSers! I've long stalked this forum for all sorts of useful advice, but never made an account until now. well, I have a question that I've been endlessly fretting over, and no matter how much reading I do I still am not SURE, without any photos for reference! how snug should a ring fit anyway??
so, I'm having my e-ring made by a wonderful jeweler (Mark Morrell!) in another country, and we're getting to the final stages but I'm having difficulty deciding what size I ought to be! I'm going to be wearing this ring by itself, not with the wedding band, so as long as it fits perfectly by itself I'm happy.
the ring I'm having made will be a 2mm comfort fit, and, well, I'm torn on what size I should ask for! I own two size 4 rings, and both fit differently. unfortunately I don't own (and can't find anywhere) a slightly bigger size. all I know is that the 4.5 'ring sizers' at the jewelers are too big (yes, I have been to jewelers, and they either size me as a 4 or say I should try a 4.25, but they don't have anything in 4.25!), and their size 4 'ring sizers' fit similarly to sample #1 below:
Example 1
size 4, 4mm band, flat insides. does that look too tight to you? there's the beginnings of a "ring muffin-top" lol, and taking it off always SUCKS big time! (getting it on is pretty easy, weirdly enough) I have to use lotion or I'd chaff my poor knuckle. I can still spin it when I'm wearing it, so it doesn't seem to be cutting off circulation... but it isn't very attractive! (or is this how rings are 'supposed' to fit? please tell, I don't know!)
Example 2
(as you can see my knuckle is still red and angry from just having the first ring removed!)
aand here's another size 4, but 1.6mm band, flat insides. it fits perfect on the finger, still need to twist a bit to get off but doesn't need cream.
seeing as the actual ring will be 2mm (so bigger than the little band I have, but not by much), and comfort-fit (should fit looser?), would a size 4 suffice? or should I ask for 4.25? I don't plan on taking my ring off very often, so I'm ok with a tight fit on the knuckle as long as there's NO ring "muffin-top" whatsoever! I would rather not have to resize the ring, since it's a very special order and it'll be in platinum. getting it right the first time would be most ideal!
thanks for ANY advice! I'm probably just being a worry-wart.

oh, and hi!