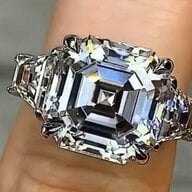 Joined

Dec 12, 2016
Messages

960
Did you like that?
Ok ladies.. in case you're not following the colored stone section I'll put this here because the start of mount shopping has begun. If need be I have an omc in the shop I can use to set this one with clean gorgeous stones. But I was hoping not to recreate the wheel..because it's only a 5 stone and that won't work for this size garnet. So.. I'm looking for a mount with omc's. Don't care about the color metal or what the center stone is because Ill take it out and reset it. So if you ladies wouldn't mind? could you just possibly keep in mind this beauty when you're looking through your hoarded link antique and vintage stashes for a setting?
size: approximate 10.6 x 6.5 x 5mm depth. My goldsmith can make anything close to that work. I am not opposed to rose cut diamonds either. But not a fan of rb's or oec's. French cuts are fun, but I'm hoping to find omc's or older. Wonky is great, color is beautiful [no problem there] mismatched is my jam, symmetry is not an issue with antique/vintage. Clarity of the stone is the ONE issue I am picky on. But we'll see right? You never know...it's just amazing to see..I appreciate it fellow ps'ers. You have exquisite taste. I know I have access to wholesale vendors but you all are a priceless resource even if it's retail

I'm willing to go that route :p
Thank you in advance!