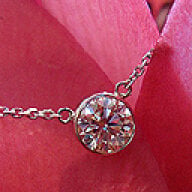 Joined

Oct 30, 2002
Messages

31,003
A few weeks ago I posted that I'd purchased a few Signity Star CZ items on eBay for Xmas etc. These are touted as the 'cream-of-the-crop' in CZ's and I have heard much positive about them.
The items arrived quickly and in time for gift-wrapping for under the tree...I also got a pendant for myself. I have to say..WOW! They are stunning!!! I have real diamond earrings, 1ctw and I got my younger sister SS's 1ctw to wear for fun, and they look almost as good as the real thing when compared. Compare the pendant to my real diamonds, and it looks superb. Intense sparkle and catches the light very nicely as well. My boyfriend noticed that the SS looked different from my real diamond earrings, but he couldn't say that it was a negative effect--just different. The earrings and pendant were set in white gold, and they were $22 and $16 respectively. I highly recommend them as a fun wear, or if you can't afford to splurge and get the real thing after dropping a huge chunk of change on a ring. I wear my pendant with my earrings and people think the necklace is real. Of course I don't deny it!
Since we broke the piggy bank on my ring, this is all I will be getting for a while, but I love it!
Anyway it was very interesting, we looked at the SS's and real diamonds under our loupe and the SS's had crisp arrows and looked very clean. One last thing to note is that the SS's sell at dept stores and on TV for something like $100-300 a carat, but I got mine on eBay for much cheaper as noted above. My pendant is 1ctw and the earrings were 1ctw as well. The seller on eBay was GemOdyssey and he was very prompt with shipping and courteous. I deem the SS's a fun diversion in the serious world of diamonds. Enjoy!