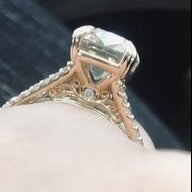 Joined

Dec 29, 2006
Messages

22
Hi Everyone,
My name is Robin and I'm a looooong time lurker on this board. My now fiance, Brian, proposed last friday with an absolutely beautiful ring and a very creative and romantic proposal.

Here is our story~
Brian took my to his hometown in Alabama to meet his parents, family, and friends.This was my first trip there and it was great.
On friday night, Brian took me to this place called Noccalula Falls. They usually have a pretty good christmas light display(according to everyone else). It was nighttime, drizzling a little(more like mist). As we walked up to the gate, we noticed they had closed the park do to "inclement weather".HA, whatever, it wasnt really even raining. Anyway, my new fiance wasn't having it. Let's just say somehow that gate magically opened and we wandered in to enjoy the lights and the large waterfall.It was nice because we were the only two in there at that point. So Brian has me read the story of Noccalula. She was an indian princess,and was in love with a man in her own tribe.But she was to be married to a man in another tribe. On her wedding day, she jumped the falls...very tragic love story. Indian writings were found in caves beneath the waterfall and so the town erected a statue to her, in her memory.
So as we are standing by the statue, Brian begins a very sweet speech...I still didn't know what was happening, until he got down on one knee and said "Will you marry me"?, ring in hand. I was flabbergasted!!!!I that was the most romantic and perfect proposal.I said Yes, and that was followed by a lot of "Thank you"s and excitement
The mist, the christmas lights, the story...it was GREAT
We then wandered around the park and looked at the lights. By the time we left, the police were ushering out about 30 people
The next day, we went back to Noccalula falls and hiked and climbed under the waterfall. I lack any type of athletic ability, but Brian kept harrassing me about it, and finally I hiked and climbed a good while...the view under the waterfall was just AWESOME and so worth it!

Hehehehe...I'm a diamond nut like everyone else here...and Brian is in the US Navy. We just made it through our first 6 month deployment in the beginning of December.I'm VERY happy to have him home...Before he left be began "making plans", but had no official engagement until last week. But Brian did want me to have a "proper ring" be the time we went to Alabama to visit the parents, so...our version of shopping together was using the net while he was deployed. This is a ring from

Good Old Gold

, and they were SUPERB in working with us. Sometimes the military, being deployed and things like bank wire can be a problem. They were extremely flexible, so kudos to them.

Ring stats:
D Vatche 18k Royal Crown setting
1.44 J VS2 (J 's are absolutely gorgeous. it faces up so white I can hardly believe it.)
Unbranded RB H&A
Table 54%
Crown Angle 34.0
Pavilion Angle 40.8
GIA:Excellent cut grade,polish, and symmetry
Love it!!!