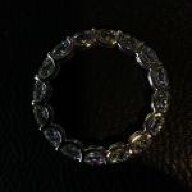 Joined

Jan 4, 2013
Messages

109
Thought it would be cool to start a thread of pieces that have been passed down or on to you from people with meaning!
To me, aside from memories, jewelry is one of the most intrinsic items you can own—just knowing you are wearing a piece that was worn close to someone you loved, often makes me feel tangibly closer to them.
Bottom ring:
7 stone original wedding band belonged to my beloved great aunt who was always like a grandmother to me. There were two exact same bands that my great aunt and grandmother (maternal side) both had. They married in the same day in 1921, today my mother wears her mothers and I wear my great aunts. I wear it almost every day with two 1.5mm black diamond eternity bands, one on each side. This ring has the ultimate intrinsic value to me and when I think about my great aunt, I touch my ring and instantly feel closer and more connected to her even though she is no longer with us.
Middle ring:
Pinky ring belonged to my paternal great grandfather—not sure if it was purchased in the USA after the family emigrated here, or in Italy where they're from, regardless I'm guessing this ring was purchased in the 1920s. I recall always loving this ring as a child... I don't wear it ever, I am not a "pinky ring" kind of guy... Although I never met my great grandfather... Whenever I touch this ring I think of all the stories I've heard about him.
Top ring:
Another pinky ring (these Italians and their pinky rings hahaha) belonged to my paternal grandfather. I've been told it was purchased in the 1960s/70s. My grandfather was a very unique character. He lived by the motto, "you get what you pay for"... He and my grandmother enjoyed the finer things in life... And I get my appreciation of quality from him. I never loved this ring as a young guy... Nowadays I have grown fond of diamonds in yellow gold. Originally I had thought I should size it bigger for my ring finger and have it changed to white gold—but I think one day I'll just have it sized and polished. I never wear this ring, but when I look at it, instantly I think of him and laugh because he probably just walked into a jeweler and said, "give me your best ring"... That was the kind of guy he was and it makes me laugh... Hahaha.
I'd love to see your pieces and hear you share your anecdotes as well!