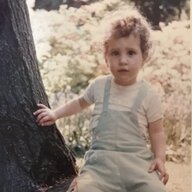 Joined

Jul 8, 2011
Messages

1,518

Hi diamondseeker2006!
Interesting what you said about not getting the motifs wet. I heard that too of course and it made me really have to think hard about whether I wanted to take on the "responsibility" of the MOP and stone bracelets. The beauty of them overwhelmed the practical and I bought two last year.. a vintage and a lucky. At first I took them on and off every day and then also looked into rubber wrist coverings for when I shower but then realized that for me I just had to wear them and what happens will happen. It was tough because I am super careful with my jewelry.. I don't even wash my hands with my rings on.
However.. taking them on and off every day was very awkward so I decided to let the chips fall where they may and just shower with the bracelets on.
I wear them seasonally... only in the "short sleeve months" and they look pretty good after a year. However I did only wear them about 4 months total. Only the malachite seemed to have scratched/dulled and that might be due to the two bracelets clanking together.
I have included pix of each motif.
Last but not least.. my daughter has been wearing her Sweet Alhambra necklace every day and showering with it on. It looks pretty good too.
OF COURSE - as you and VCA said - the best thing for these delicate beauties is to not get them wet but if one does it's not the end of the world.