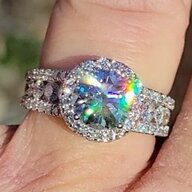 Joined

Jun 26, 2017
Messages

571
@Diamond Girl 21

these sets are fabulous and so elegant. The pearls are always a classic and you can't go wrong with those solid gold sets. Are the purple stones amethyst and the pinks sapphires / rubies? I hope you go to parties and fancy restaurants so you can wear these out and about. The pink bracelet and ring have to be total sparklers.
That's so kind of you to say
@marcy
. Thank you. Yes, the purple stones are amethyst set in sterling with marcasite. The pink stones are rhodolite garnets. The picture of the pearl set isn't very good, but they're prettier in person. I used to go to a lot of parties and restaurants when I was younger. When that slowed down, I stopped wearing a lot of my jewelry. I felt like some of my jewelry was too blingy for my casual social life. Now I don't care. I love all my jewelry, so I wear it whenever I'm out and about. It's better than keeping my pieces locked in the safe.