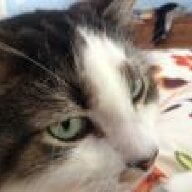 Joined

Sep 18, 2015
Messages

195
So I've amassed enough jewelry at this point that it doesn't make sense to keep it in the cheap/old/only-about-10"x6" jewelry box I've had for years. My pearls are thrown in with bulky silver pins, necklace chains are tangled, I have trouble finding both earrings in a pair, etc. It's not working.
I don't have a huge collection; 3 strands of pearls, maybe 5 or 6 chain necklaces, a couple pairs of stud earrings, maybe 10 pairs dangly earrings, 7 or 8 rings (some delicate gemstones and some bulky silver/turquoise types), a few inherited bracelets and pins (which I never wear so maybe shouldn't be taking up space with the stuff I do?).
So -- I need to get some nice storage. Right now my jewelry box is on my dresser, along with a rectangular flat basket that I keep some bigger pieces in (a big turquoise bracelet -- that kind of thing). I find the dresser top convenient, but I'm open to other suggestions. I'm guessing some of y'all can show me some amazing options? Quick internet searches for jewelry boxes didn't reveal much to me other than cheap small ones like I already have and huge expensive things that I probably can't afford and are too big anyway.
Anyhoo ... please show me your jewelry storage!