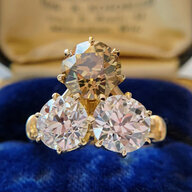 Joined

Jul 23, 2012
Messages

19,259
I would say his quotes are quite a bit lower than DK for example. I've only had one thing done from him and was really happy so he is doing two more things for me. I'll post about them once I get them. There are some ppl who have said more critical things though so you may want to search the name more in the threads.

I have noticed this just anecdotally, but it seems ppl use other vendors like DK for their more "high end" items. Not to say Dan can't work with that, it's just something I've noticed on PS.
I have used both and I would agree based on their strengths I would use Dk for something more intricate and dm for something relatively streamlined. However his recent work on the cab tells me he's certainly capable- just his both jewelers work has its benefits depending on the work.