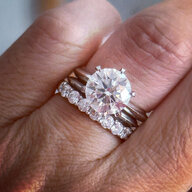 Joined

Jan 14, 2003
Messages

2,356
Omg!! Those new pieces are SO so so cute - I'm thrilled to finally see one on PS!!

Kayla you have the best Tiffany collection! Your rose cut butterfly is one of my all-time favorites

Please share more pics of these two? How does the butterfly wear - how's the flipping? Does it tangle with other chain bracelets?
Thank you so much! I love the bracelet. It actually reminds a little me of the Frivole bc it's 3D and the butterfly looks sort of like a flower. I really love butterflies and rose gold so when I saw this I really wanted it.
The butterfly wears well, it doesn't flip on me but I have the clasp attached to the dbty bracelet also. So once at the Love bug circle and then to the end of the dbty. I also have the dbty attached to the Love bug bracelet the same way.
I find when I attach my bracelets this way it makes them tighter and they don't turn on my wrist as much.
The chains sometimes get tangled but keeping them attached to each other the way I have them helps a lot bc they tend to stay in place.
I've added a few more pics below.