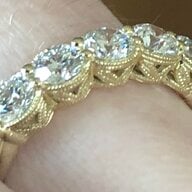 Joined

Dec 22, 2019
Messages

1,257
I went down a rabbit hole on Etsy and eBay, somehow ended up needing an antique chain.

Inspiration from IG sellers showing these off as short chains/chokers… While I'm waiting for this to arrive, can you show me your antique or vintage chains? Bonus points if interesting pendants included!
This thread inspired me to shop for one! I spent a whole weekend d searching for and finding the perfect chain and then purchased it only to have the seller email me the next day to tell me that it had sold the week before and "oops" they forgot to take the listing down. So I won't be sharing mine here. I can't find another one that I like that is affordable.
I didn't 'need' a chain so I will survive.