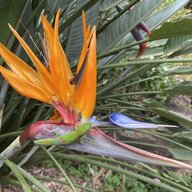 Joined

Aug 23, 2020
Messages

544
Thank you,

@bling_dream19

.

I wish I'd taken the photos on a sunny day, *not* in a coffee colored room! These AVRs pick up the colors of wherever they are with a vengeance, so next time - outside for sure!

And there are some lovely additions to this thread! Gorgeous ring,

@bling_dream19

- you can see the quality of that stone from a mile away. And I love the balance of the whole set. Just lovely!

@astaeria

- how perfect is that photo?! Your gorgeous hands, that beautiful wedder, topped by that oh-so-elegant e-ring! Just stunning! I'll bet you get a LOT of comments and compliments!

@Nymf

- wow! Love your e-ring! And can you share the specs on your wedder? There's some real oomph in that combo! Eye-catching and spectacular! Is it an anniversary style or an eternity?

And FL_runner - I do so love a good pear! Can you share your finger size? The ring-to-finger ratio is just lovely! Do you have a preference between this beauty and the stunner in your avatar? What a great choice to have to make every morning when you put on your jewelry!

Very nice, ladies!
You're so sweet, thank you! I am a 5.5 on the left and more like a 6 on the right hand. I wear the pear more often, but sometimes just a half eternity band on an average day going to work. The round with the halo is a lab diamond ring that I love but it's a bit bigger/easier to knock into things and spins sometimes so I wear it more when I am dressing up or on weekends