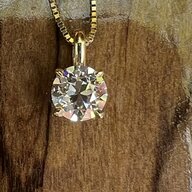 Joined

Feb 13, 2017
Messages

176
I was confused too… I thought no LGD or other lab grown gems or synthetics could be posted on SMTB or RT. I just got a LGD set in unplated 14k white gold and wanted to post the ring and discuss it for other people who might be considering unplated WG but I feel like it would get buried here. Setting discussions are the kind of discussion that goes on more in RT than here. Also I'm waiting on a LGD ring but figured I could not post in the two week club, but thought starting a two week club in this forum would not get much traffic. And when I get that one I wanted to do a thread on cvd vs. hpht vs. a lab sapphire which I thought might be useful but due to the lab sapphire I don't think I can post it in this forum about LGD.
I posted a multi stone ring proportion question in RT. I hope that was OK. The ring will likely be a mix of both mined and MMD. Sometimes it's hard to tell what's acceptable.
Incidentally, I'm waffling between unplated WG and 10k yellow for my own ring project. I would LOVE to see your LGD in unplated white so I do hope you post it up here.