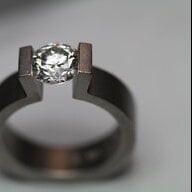 Joined

Jul 23, 2006
Messages

2,358
Hi all,
Well I am in the market again for a RHR. I have always wanted a '
Crafted by Infinity
' diamond and I saw this one that took my breath away.
http://www.highperformancediamonds.com/index.php?page=view-id-diamond-infinity&id=387
Seriously take a look at the video of it, it's breath-taking! A D with very strong blue fluor

Anyways long story short I rang Wink and the delightful Melissa and he told me about the 'See it to believe it' program. He will send out a diamond and pay for the shipping BOTH ways if you don't like it.
Sadly once I had it I realized that an RB on both hands was not the look I wanted. What a gorgeous diamond though. Here's some pics that I took with my iPhone. My real camera's battery is dead unfortunately.
So now I know that another RB is definitely not what I want. It was great that I could find that out at no cost to myself.
Can anyone say antique cushion here I come??
I'll be calling on everyones expertise in this though as I know NOTHING about old cuts.
In the meantime here's a snap I took outside to try to show the fluor. SO pretty! and then I couldn't resist the fire shots. Hope you enjoy them even though they're not the best pics.