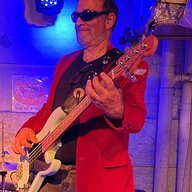 Joined

Jan 7, 2009
Messages

7,842
Awesome Bryan- progress!!! We agree on so much and the differences are subtle. My comments in red below
Fair enough David. Apology accepted.

I never demand that anyone agrees with me, so we can certainly agree to disagree.

I should not have to clarify this for you since we have had this discussion many times before, but here is my basic position on the topic at this point in time:

Blue fluorescence is capable of masking yellow color in response to UV and (to a lesser extent) VV of sufficient intensity.

Agree- and this point is crucial.(but only if we're discussing colorless and near-colorless. In fancy yellow colors the effect can be opposite- increasing yellow)

I have seen color masking (whitening)

Agree

In the majority of indoor lighting environments whitening does not take place, because blue emissions are not sufficiently stimulated due to insufficient intensity of wavelengths capable of causing them.

Not true in my experience

The oft touted benefit of color grade improvement of fluorescent stones is WAY over-sold.

Can't agree here based on changes in the market- I don't see a lot of sellers "touting" this. Maybe this was the case years ago, but today, other factors drive purchases in my experience. Maybe it's taking place in jewelry stores, but I don't hear of it. Kind of important personally to me- I have had stones that showed color improvement, and described them to clients thusly. No one ever claimed I was wrong- and we get a tiny percentage of returns.

The concern about transparency deficits (milkiness) due specifically to fluorescence is similarly overblown for the fact that in most indoor lighting the milky effect is not produced because fluorescence is not stimulated.

Here, we also see things differently. I've seen more dull fluorescent diamonds than I could possibly count. Arguing over the reason they are dull is pointless.

Consumers need to evaluate strong fluorescent stones for any negative factors by viewing them in sunlight.

Agree

Lab overgrading of color of strong blue fluorescent diamonds is a potential concern and consumers should have diamonds reviewed by qualified professionals specifically for this issue.

Agree ( again, only for colorless and near colorless- in Fancy Yellows fluorescence causes UNDERGRADING)

Discounts of fluorescent diamonds can provide shoppers with potential savings due to irrational market perceptions.

Agree

Stuff that fluoresces is really cool. Especially diamonds.

WHAT- ARE YOU NUTS????....kidding of course we agree

My position is not in opposition to conclusions reached by the GIA in their studies and surveys.