Joined

Sep 19, 2020
Messages

16
Two diamonds below. Diamond one has an HCA of 2.3 with "looks like" average face up and diamond 2 has an HCA of 1.4 with "looks like" Big face up. However,
ideal scope
of the diamond One looks slightly better to me although its HCA value is higher than 2 probably because of the high CA and a PA that is not low enough to compensate for the high CA. But all I have learnt so far on this site is to reject a diamond with more than 2 HCA, but the
ideal scope
doesn't look like a reject to me. Also not to mention that its a
James Allen
True hearts diamond with an HCA of 2.3 . I have both of them reserved and wondering which is a better buy or better choice. Also, Diamond one and two are both about the same price but Diamond one has med blue florescence with J color. Details and the diamonds are below. Which is one is better in terns of sparkle and face up appearance with respect to carat weight.
Diamond One
2.25 J VS2 True Hearts diamond at
James Allen
HCA 2.3 average
Table 57
depth 62.1
CA 35
PA 41
med blue florescence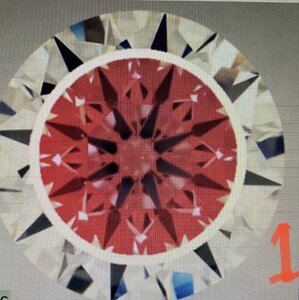 Diamond Two
2.15 J VS2 (not True Hearts but still a
James Allen
diamond)
HCA 1.4 Big
Table 59
depth 61.2
CA 34
PA 40.8
Faint Florescence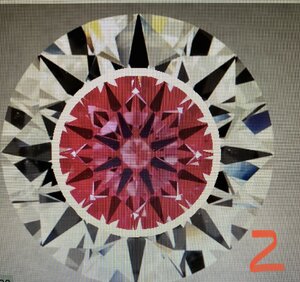 Last edited: