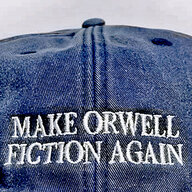 Joined

Apr 30, 2005
Messages

32,302
http://www.cnn.com/video/#/video/us/2011/07/11/pa.ban.noisy.kids.restaurant.wtae?&hpt=hp_c2
We've discussed this before but I was surprised to see a restaurant in the news for banning kids under 6.
This sounds like a risky business strategy.
Not loving children is taboo and people usually keep such feelings to themselves.
Clearly we're not talking about McDonald's and Chucky Cheese, who'd go broke banning kids.
We all know
some
kids, but certainly not all, can be spoiled brats that the parent's can't or won't control.
Then there are the babies, who are not misbehaving.
They are just being babies, which means they cry sometimes.
I've seen kids run around table to table and be noisy at nice restaurants and it certainly is unpleasant.
I'm more annoyed with the parents than at the kid.
Some of the parents think the kid is just being outgoing and charming, and I'm a jerk because I don't go all gah gah over their DNA unit, who is the most precious wonderful gift to the world.
The mother interviewed says the ban was ignorant, but the owner says parents are selfish.
Do you support such a ban?