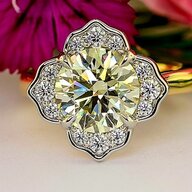 Joined

Jul 12, 2004
Messages

4,004
I currently have a 2.79 F-VS1
CBI
that I am considering upgrading to the 3.12 G-VVS2 on the Wolf-
CBI
website. While 2.79 is nice, it would be great to break the 3+ ct barrier. I can see a pinpoint in the magnified video at 4 o'clock but it would be invisible to the naked eye.
I am not sure of what to do. Because of Covid-19 we had 4 cruises canceled so there is money available for a treat. But do you think I should upgrade to go from 9.04 mm to 9.46 mm? Is that enough of a mm increase?
The 60.8% depth percentage is nice because the diamond faces up a bit larger than if it were 61.9%.
What would you do? Do you think incremental upgrades are a thing to do since you do get to enjoy a larger stone while you save up to maybe get your holy grail 10mm stone in the future?
Your thoughts?
@John Pollard
why does GCAL grade clarity it at VS1 while GIA and AGS have it at VVS2? In the past I thought that GIA was supposed to be most strict?
Last edited: