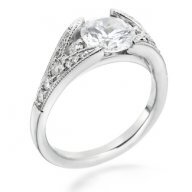 Joined

Apr 22, 2009
Messages

1
I''ve been lurking on pricescope for a couple of years and wanted to share my story (now that I have one!).
my husband just gave me this beautiful sholdt design twisp diamond ring for our 20th wedding anniversary.
we had been looking at rings for over two years before the anniversary. originally I wanted the tiffany lucida but when we actually looked at the rings, the quality of diamonds for the price was not that impressive. instead we decided on a beautiful setting, something a little unusual, vintage and yet a little modern, to set off a high quality, but not huge, diamond. we found the perfect setting on the sholdt design website, the twisp split-shank. since no one in our town carries this line, the company referred us to perelman''s as their only online dealer. joseph helped us out there, and we had nothing but a superlative experience from start to finish. at first we intended only to buy the setting from perelmans, but when he found us the perfect diamond at a great price, we did the whole thing through them. it also avoided the hassle of shipping such an expensive item to multiple addresses.
here are the specifications: 1.20 carats, F color, VS2, cut EX, polish and symmetry EX. we decided to go with a smaller F stone rather than a larger G and I''m glad we did. it is so clear and sparkly I can''t stop looking at it!
ok, it took 20 years, but it was worth the wait . . . .
in any case a big thank you to jospeh and perelman''s for making such a large and much-thought-about purchase so easy.