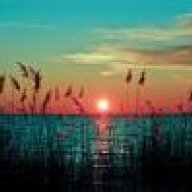 Joined

Feb 21, 2012
Messages

34
I've only recently become a fan of diamonds, old cuts in particular, so this is my first diamond purchase (besides my obligatory point and purchase engagement ring from a few years back that just ain't the same!) I'm smitten. After some back and forth and returned items- an M with too much tint, but it was a sparkler, an I that didn't quite capture my heart and a pear that while gorgeous was dull in comparision- I finally found one that made my heart beat fast. I was just about to give up, expand the budget and go bigger before I opened the box, but geeeez... I don't want to let this little dear go! I said "I want an old cut with a rainbow that slaps me in the face". LOL! I got it!!
Here is my 1.27 L transitional. The little golden-yellow that you see is not there IRL. The box pic is absolutely the color of the diamond and I'm color sensitive. There was an amazing bayou sunset today that turned the sky gold and that is what it's picking up. If I had waited longer, it would've been the most gorgeous pink sunset so far this year.
BTW- Ilya at Diamond Zone is a champ and a patient man!