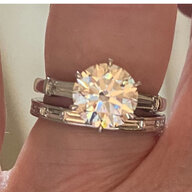 Joined

Mar 31, 2018
Messages

6,492
She was suppose to arrive on Monday so imagine my disappointment when she was stuck at a ups facility an hour from my house for like 12 hours. I was ready to get in the car and drive there She arrived at 3 yesterday and thankfully my fiancee didn't make me wait! Honestly one of my first thoughts was "holy sh*t, its huge" I'm sure I will get use to the size but I'm so happy that I didnt go with a bigger size stone. It took a while for me to finally decide on the 1.25ct, I was going to go with a 1.5 or 2. I don't really wear any other jewelry so this is plenty big for me
I love it!!! It was worth the wait!
I'm so happy you love it! It will take a day or two for you to think it's just the perfect size and not too big...just right!