Hi all,
You guys were tremendously helpful a few weeks back with picking out a center stone + setting for my girlfriend, who fell in love with the Tiffany three-stone ring (
http://www.tiffany.com/engagement/rings/round-brilliant-with-pear-shaped-side-stones
. The original thread is here (
https://www.pricescope.com/communit...es-aca-center-stones-for-3-stone-pear.220671/
.
I ended up going with the Vatche 310 3-stone pear setting, and a
WF
Expert Selection 1.457ct G VS2 stone (
http://www.whiteflash.com/loose-diamonds/round-cut-loose-diamond-3638371.htm
). The pears are 0.60ctw G/H VS, I believe.
Anyway, I got the final product, and (as an entirely inexperienced buyer) I am happy with it. I asked
WF
to set the center stone lower than usual to try and mimic the "sleek" look that the Tiffany ring has - in the sense that the center stone is not raised and feels flush with the side pears. The result doesn't quite look like the Tiffany, but is elegant in its own way.
Please excuse my terribly grubby fingers. The ring is a 5 and barely fits around my pinky - my girlfriend is a 4.25 (needs resizing!)- so will look very different on her. She's extremely petite and 5'4".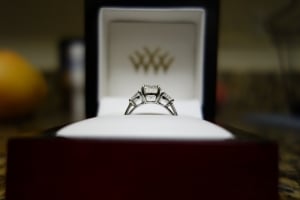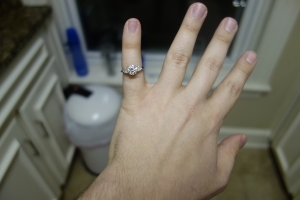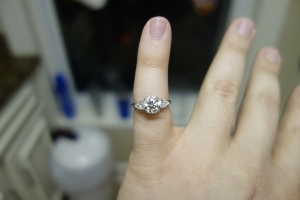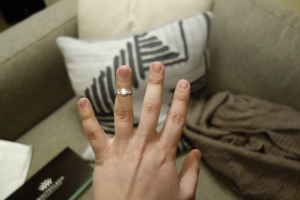 Does anyone see anything that I should be alarmed about?
I have plenty of time within my return / exchange policy, and the proposal is not in the immediate future.
The rest of the pictures can be found here:
http://imgur.com/a/6Iu5j
For what it's worth, here are (poor) pictures of the stone she fell in love with at Tiffany (the ring, not the brand) - notice the size difference:
http://imgur.com/a/OWzEe