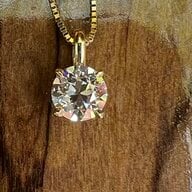 Joined

Feb 13, 2017
Messages

551
This setting is a custom design with Jon @ Distinctive Gem. My 1.07 rectangular F color AVC set E-W in a slightly tapered semi-bezel with Euro shank and 1.2 mm blue diamond flush set in the lower shank.
After years of prongs and thin, delicate settings, I decided I wanted to ditch the prongs and wear a more clean, contemporary setting. I was after something minimal and slightly industrial-feeling. I'm very happy with the sleek semi-bezel, it accentuates the shape of the stone in a way that I much prefer to the pronged setting it lived in previously. I love an open gallery for cleaning. There are a few things I would change about the design, but that's water under the bridge at this point. It's a learning process.
There was much agonizing over the metal. I'm a strict YG wearer and, for some unknown reason, this time around I wanted different… I wanted either a buttery unplated white, or something gun-metal grey. (And thusly I went down the deep and scary rabbit hole of white metal alloys). Anyhow, I ended up with 14k Palladium unplated WG from Stuller. I actually kind of love it, which is great because I went into it blind; I picked the metal based off casting grain images on Stuller's site
It's very, very buttery.
There was also some agonizing about whether to soften the lines between the shoulders and bezel cup. Ultimately, we left the demarcation, and I'm glad. It adds to the aesthetic I was going for.
Thanks for looking! Hope everyone is having a lovely spring so far! Mine just got a little brighter