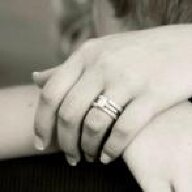 Joined

Dec 9, 2010
Messages

68
Sorry everyone, there are a few different topics floating around from me at the moment, I am desperately trying to fine tune my requriements for my wedding bands, which have been orderd but deposit not paid yet, so need to make any changes now!

2 x platinum bands 3/4 eternity shared prongs - 0.06ct stones - approx 17-18 stones.

Do you think eternity bands are better handmade or cast? I have the option of having it done either way. I chose handmade, for better density of the metal, and I think this would be best, but the jeweller told me he prefers cast because they can get it 100% perfect... I am quite confident with this jeweller, he has done a lot of work for another friend of mine and it is lovely... i just need some other opinions so I know i am on the right track...

Thank you - Thank you - Thank You!!!!