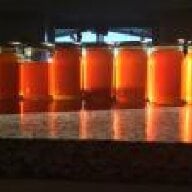 Joined

Apr 15, 2015
Messages

272
I wasn't sure how to title it.
I have arthritis in my hands, and when it flares up I have a fair amount of pain. I've noticed that lately I have been choosing more comfortable RHR's most days because when my hands hurt they seem to be more sensitive to little things on the rings, or if they're more top heavy. I'm not wording this very well, sorry. Hopefully someone with arthritis knows what I mean.
So, my question, I'm thinking about settings for the light yellow diamond I'm shopping for, and I want something super comfortable to wear most days, but I also really like intricate details, more antique styling, and little diamonds all over. It's a conundrum.
Initially I didn't want a halo for this ring, because I seem to have an awful lot of halo rings, and I think they might be trendy. I'm not the biggest halo fan, I feel so-so on them, and it just seems like they're all over these days. But I also don't care for solitaires.
I'm worried about pave on the shank because of the sensitivity issue. I'm hoping someone with arthritis can maybe chime in and give me some suggestions. What works for you?