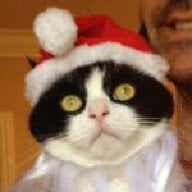 Joined

Oct 7, 2004
Messages

5,239
Hi ladies and gentlemen! I need some quick advice and your opinions are very very welcome. Thanks in advance!!
Daniel M is setting my 1.99 cushion in this kind of ring
http://www.etsy.com/transaction/37448689
. Attached is a pic of it. Top left cushion. It has a slight orangish pink tint to it, but more pinkish red.
I plan on using pink gold prongs for the center, and have the rest in white gold. Do you think the pink gold will go with this spinel? I did put it w/ a white gold chain and it looks good, it didn't look as nice w/ yellow gold chain, and i have no shiney new penny to try for the pink. Because it is an orangish pink stone, i thought pink gold will look nice.
What do you think? pink gold prongs for the center or no? Caren's probably sick of my wishy washiness so I wanted to get some other opinions. Thanks!
Eta, wth happened to my color? it is soooo much more saturated before it posted?!?