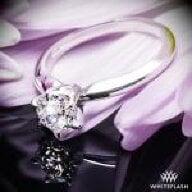 Joined

Jan 13, 2016
Messages

51
So I think we have found our diamond (
WF
) and as soon as I have bought it I will post all specs (nervous about posting before as I am super-paranoid it will get snatched up!
)
Now I have been debating whether to get a new setting or to go with the one in my temporary ring, I actually love the setting but had planned to sell the temp ring as a whole on ebay (it only has a moissanite which on its own won't be worth much). And I didn't have a very good buying experience where I got my temp ring so I am loath to use them again and I haven't found another setting the same...
So ANYWAY... sorry to be all longwinded... I had come around to thinking maybe just swap stones and keep my temp setting, even though I love a 6 prong setting. And
WF
has one very reasonably priced (a good thing as we are blowing the budget a bit on my diamond which will now be $4,400

) but it has a huge gap between the diamond and the base - what is the benefit of this, does it just make the diamond look bigger or does it also sparkle more? My current setting is a cathedral, very pretty, but the stone is completely nestled in, snugly at the bottom.
I am also a bit worried that the gap-setting at
WF
will make it dirty underneath, difficult to clean? And my final question is, are the prongs adjusted dimensionally to suit the carat? I worry that the setting will otherwise swamp my .8 carat stone! I am also unsure whether a wedding ring would sit flush against this setting.
Thanks again! I can't find a way to post photos so I am including a link to the
WF
setting here:
http://www.whiteflash.com/engagemen...ni-1rz7295-solitaire-engagement-ring-4031.htm