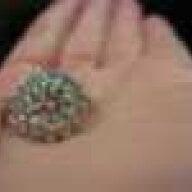 Joined

Aug 6, 2008
Messages

934
So I just got my engagement ring from FI which I absolutely love...There is one thing that I notice that *bugs* me somewhat, and I don''t know why I didn''t notice it sooner (blinded by beautiful diamonds maybe

)
Here''s a pic so you can see what I''m talking about as I''m not great at describing it...It appears to me that one side of the band is pinched together more than the other side (notice the left hand side compared to the right)...
Now I''ve only had the ring since the 9th...and I don''t think that simple, normal wear would be enough to bend 18K WG like that...maybe I''m wrong?!
If I wanted to go through the process of getting it corrected what would be the first step? Talk to the designer directly or go to the 3rd party who the ring was purchased through? Is it something that I should even bother with...Ultimately I know it''s my decision if I should pursue this but I just wanted some of my fellow PS''ers opinions...