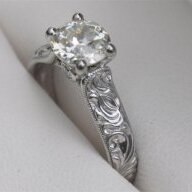 Joined

Feb 20, 2009
Messages

34
I have been waiting for my Scoot Kay ring to get in that I had ordered 3 weeks ago. The sales women at jewelers told me they would call me second it gets in. Well it came in Saturday, and she had it set and all without even calling me. She e-mailed me after it was done saying that I could pick it up. I did not get my email until this morning when I got to work because I used my work email to hide this from my girlfriend.
I have not seen the ring yet, and they are not open on mondays. So I don''t know how it looks, but I wanted to be there when he or she set the stone. First I wanted to tell them to set it as low as possible, with all the prongs trimmed and rounded nice and smooth. Second I wanted them to verify that it was my diamond going into the ring. It is an old mine cut diamond so it may be harder to switch, but it still makes me nervious. It is also out of round, and felt like they should ask me how I wanted it set. Should I be upset, I was nervous about letting them set it in the first place, and let them know that by asking several times if we should let Scott Kay set the stone.
I am so nervous about the ring, because I have had nothing but bad experiences so far with this jeweler.