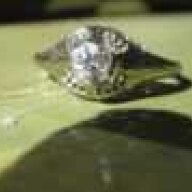 Joined

Aug 14, 2008
Messages

40
Hi! Long time lurker here!

Well, yesterday I met with my boyfriend''s dad at his jewelery store. I''ve had a project in mind for quite a while.

About 5 years ago, I found a diamond. I looked for lost ads in the paper and never found anything. . .so I kept it. It is a .71 ct G SI 1. It isn''t graded or anything since I found it. It is a pretty well cut stone and sparkles like crazy. I got a job at a jewelry store a couple of months after I found it and had the stone set into a pendant that I''ve had ever since. I was only 18 when I found the stone so my jeweler did not want to set it into a ring because of a feather along the girdle would make it prone to possibly cracking if I wacked it good.

Well, I''ve had my eye on the Tiffany Etoile for a few years. . .I love it because it is heavy and great for every day wear, but also has no prongs. I also like that I''ll be able to stack other thin bands with it to change the look. I like the heavy and wide shank because my fingers are super long and thin. . .I wear a size 3 on my left ring finger and a 3.5 on my right.

It should be finished on Tuesday or Wednesday of next week and I''ll be sure to post some pictures!

In the meantime does anyone else want to post pictures of their Etoile or Etoile Look a likes?