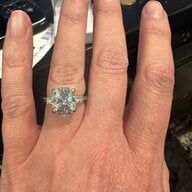 Joined

Nov 12, 2011
Messages

973
Hello lovely people
So I have paid my deposit to Grace for my 2.01ct antique pear diamond - YIPPEE!
However I have decided to sell my current ering to offset the purchase - which is what I always had planned to do, and think consignment will be the way to go... well I called a few places and they've all been so rude to me and said princess cuts are terrible, no longer popular etc.... and when I mentioned the new purchase they all said the pear was WAY overpriced and its not an antique etc etc....
Im feeling worried and also freaking out! I know everyone who commented on my pear thought it was well priced and so I suppose Im just looking for a virtual hug and some peace of mind....
Being in Australia I find people just dont get it, and I wondering if I should list on here? or some of the other US sites?
Im getting anxious