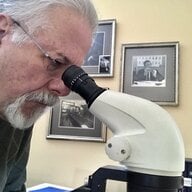 Joined

Sep 3, 2000
Messages

6,661
There have been many discussions and cat fights about Ideal Cut diamonds on Pricescope over the years. Not everyone agrees with everything that has been said, but we sort of have a truce agreed upon that states that there is no one single cut configuration which is "the best" and that "ideal" is a range of looks, and levels of light performance. Ideal cut are diamonds which the trade has decided are the best range of stones, but the consumer must select a single diamond they like the best. Often a consumer selects a less than ideal range stone just like people often select other than a D color or IF stone. A diamond that suits your budget, your needs, your style, your eyes and makes everyone pleased, is the ideal one for you despite what we promote. Common sense dictates that compromise and moderation are allowed to enter into decision making for most people.

One clear thing that I see people doing which confuses them is looking at a diamond for appearance at angles away from face-up. There is NO diamond which should be chosen for any view except the face-up view. Sure, you can look at a diamond from any angles you want to, but ALL the best diamonds ALWAYS look their best face-up to your eyes. If someone sees a stone which looks excellent at 20 degrees off face-up, but looks just okay straight on, it won''t be one of the best. Keep the process as simple as you can by concentrating on "what does the face-up view do for me?"

The best diamonds ALWAYS perform beautifully face-up and also may do well when viewed at an angle. Some strange diamonds look better from an angle than face-up, but what is the purpose in choosing such a stone? It needs a fine face-up view to succeed in ultimate beauty. So, spend the time to compare diamonds all in the face-up position to weed out any that don''t make the cut. It is easier to concentrate your efforts on side by side stones facing your eyes.

You will find this very valuable for princess and radiant cuts as well as rounds and other shapes. The fancy shaped stones often degrade faster in appearance to an angled view than rounds, but the face-up view is crucial to decision making.