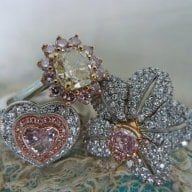 Joined

Aug 1, 2011
Messages

2,362
I have fallen in love with some of the Pad sapphires I've seen on here.

A month ago I'd never even heard of them.
I've looked on the Natural Sapphire Company site and I've found the perfect one... except it's too expensive
Yikes- $14,000.00
Sooooo, I'm hoping you all can help me find one that looks like this (hopefully unheated) in the 2 carat range. I absolutely LOVE this soft pink with a hint of peach - under $8,000, and closer to $5,000 would be better
. Any ideas????