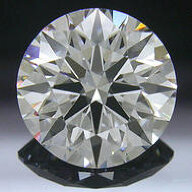 Joined

Jan 3, 2007
Messages

36
Hi, everyone, I found this website around New Year. Since then I come here very often to learn about diamond and online diamond shopping experience. This is my 1st post here.

Basically I decided to reward myself something this year, and chose to go with a rock -- make a pendant.
I wanted to finish my mission before New Year. Then I found this site. So I gave myself two more weeks to learn and absorb some of knowledge provided here. Anyway, my work is getting busy, and my stone shopping is becoming stressful. I almost wanted to give up, but my husband said I would waste all the knowledge you just learned. So I continue my searching ...

Luckily I found a stone I like based on paper today. I hope this ends my search. I feel pretty good on this one and already requested it via one of PS online vendors, but I still like to hear your expert opinion on this stone -- thanks in advanced.
E, VS1, 1.38 with GIA cert
Depth 61.5%,
Table 57%,
Crown angle 34,
Pavilion Angle 40.8
Excellent in cut, polish, Symmetry
HCA 1.1 (ex,ex,ex,vg)

This stone is better and bigger than the one I have on my egagement ring (H,1.08 carat). Someone is suggesting to put this new stone on my ring and use H1.08 stone for my pendant. It sounds like a good idea.
My ring has simple Tiffany 6-prong platinum setting. It has matching simple platinum wedding band. I have both for 8 years so far. so I like to keep the ring. My question is if it''s safe to change the stone basket only to hold the new bigger rock. Should I purchase a new ring setting for this new rock?

Thank you.