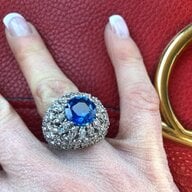 Joined

Dec 25, 2019
Messages

49
I'm relatively new here and so far loving it. Everyone is so knowledgeable and helpful.
I posted my new to me emerald ring over on CS as my first post and, yes, as ItsMainelyYou advised, I knew that meant I have to share the rest of my collection.
So here goes....
My right hand ring is a vintage 1950-1960's classic bombe. Platinum set with round brilliants and marquise diamonds. Topped with a new 4.55 GIA cornflower blue sapphire. My jeweler had the setting which we think had a 4.5 carat round brilliant diamond in it and we chose the sapphire stone. I love the way the blue pops against the diamonds. I think the diamonds come in at another 4-5 carats total.
I know the entire piece "reads" dressy to the eye but I wear it a lot with jeans/tee/sneakers when I need a little extra mojo. I also wear it when I'm dressed up but don't save it for that.
It really is one of my favorite pieces.
It was the first time in my life I simply admitted to myself that I like "more is more".
I found it very empowering to simply buy what I liked for me!
My mother purses her lips whenever she sees it because she is of the "less is more" camp....and that's fine with me and makes me like this ring even more.
Oh, and funny story, when I first saw the completed ring, I laughed because my first impression was it was "too" blingy and looked fake! That lasted about one nano-second!
Once I picked it up and put it on it was true love!
Thanks for letting me share.