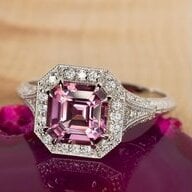 Joined

Aug 19, 2009
Messages

5,757
Long time no see
I have been hanging out mostly in the PS Cafe/Family threads for the past few years, having kids and juggling being a busy mom with a busy career as well, but finally have a fun new project.
DH has agreed to an upgrade of my ering (yay!) so now I am trying to make the most of our limited budget (and figure out what the budget should be
). He's pretty emotionally connected to my ering and this will likely be my only upgrade as it took many conversations to get to this point. Plus, I have learned that I am pretty much a one and only ring kind of girl, so I want to get this right. I have a five stone that I wear as well but that's it.
DH got exactly what I love when he picked out my ring, but due to very limited budget and shopping at The
[email protected]
@l
[email protected]
Company he may have paid a premium for what he got. The ring is lovely, and I like it very much and love what it represents, but aesthetically I would like to tweak some things.
My goal is an emerald cut sapphire that is glowy and lively and blue, blue, blue set in a fluid three stone setting (think liquid metal
with well proportioned G/VS or better step cut diamond side stones and perfect claw prongs.
I have inquiries in with Jeff White and several other sapphire vendors and think I have some good contenders. I am exploring several options and will check-in later re the final picks once I narrow it down and finalize our budget.
But in the meantime, as I try to figure out the budget we have and the best way to maximize value for this project I am having some sticker shock looking at settings online. It seems like they have dramatically gone up in the past few years?
The settings I love are all classic, gorgeous Leon settings, but I need to find a similar aesthetic at a lower price point.
I found this
http://www.uniquesettings.com/products/show/20928
which looks promising, but would love to hear if there are sources for other settings that might fit the bill and be reasonably priced.