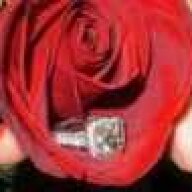 Joined

Jan 18, 2007
Messages

130
My boyfriend and I are going to look at settings this weekend and we have called ahead to make sure the stores are carrying the setting we are eyeing... Basically, the one I look at every day ...sometimes more than once
You can find it at
www.jackkelege.com
- it it is the upright ring in the center.
Anyway, this is my dilemna. Of the two stores that carry the ring, they have quoted me two different prices- with about $1000 difference. The more expensive store had Kelege overnight the ring so we can see it on Saturday and we have been in there before and had contact with the salesperson. We might make some modifications and she seems the most helpful and willing to work with us. However, their ring is more expensive.
Basically, I am wondering if people have had the chance to negotiate with B&M stores and how to approach this delicately. Any suggestions would be appreciated.