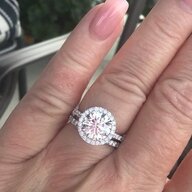 Joined

Feb 20, 2006
Messages

482
I replied to my old thread...but fear it will just sink to the bottom, so thought I better start a new thread on this one with my question about a different ring...
I was originally asking about safety issues concerning a diamond band contaiing three rows of invisibly-set princess cut stones. The concensus was that they are held in place with tiny wires, and not safe to clean in the ultra-sonic, etc.
I am looking for a ring that I can wear every day and clean in the US/steam clearner. I am wondering, therefore, what your opinions are on this ring? I would have it made up in 18K YG.
I am assuming that with the baguettes and only the two rows of princess diamonds in this ring, that this would be a lot more secure in the setting than the other ring with the three rows of princess. What do you guys think? I will await your opinions on this before I go ahead with it.